POWER ADAPTERS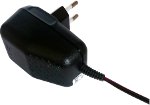 We offer the power adapters for all our meters, also those withdrawn from our offer.
The choice of the right type of the power adapter is important. The voltage stabilisation is crucial for meters of all series. Part of the power adapters available on the market doesn't have this function what results in voltage changes under the load.
The power adapters were specially selected for each of the meters, they have different parameters. We do not recommend using adapters with different technical parameters than those specified in the instructions or data sheet.

We have following power adapters in our offer:

For meters of 411 series: 12 V / 100 mA
For meters of 401, 405, 461 series: 5 V / 1000 mA + USB cable
For meters of 505, 511 and 411 series: 12V/100 mA stablised.
For meters of 502 series: 6.5 V/ 3.2A stabilised.
For meters of 601 series: 9 V / 500 mA stabilised.
For meters of 705 and 701 series: 15V/1A stabilised.

Power adapters for other meters, also untypical, and for industrial controllers available after contacting our company.