OXYGEN CONTROLLER CO-421
CO-421 is a stationary device used for continuous measurements of oxygen concentration in clean water, sewage or in the air and temperature. Measurement may be made in % or in mg/l in water and in % in the air.
The controller is available in three versions:
1. Equipped with two relays to control valves and signalisation system. 2. Equipped with 0 ÷ 20 mA current loop. 3. Equipped with RS-232 output with a software to collect the data on a PC. Optionally, the connection may be made by USB output with use of RS-232 – USB converter (additional equipment).
Characteristic features:
Meter is equipped with backlit LCD display.
The device has an automatic temperature compensation system.
The controller enables 2-point calibration of the oxygen sensor in 0% and 100% concentration for measurements in water and in 20.9% concentration in the air.
It is possible to calibrate it without the need of disconnecting the outputs.
Periodically, the sensor should be calibrated and manually cleaned.
Powered by 12 V adapter.
24 months of warranty.
High accuracy at an affordable price.

When ordering, the kind and unit of measurement should be specified – water or air and % or mg/l.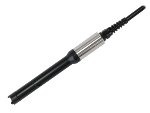 Zoom

COG-2 oxygen sensor


Depending on usage, we recommend galvanic oxygen sensors: COG-1, COG-1t with built-in temperature sensor or COG-2 sensor with weight. The sensors may be mounted in immersible or flow heads, chosen depending on the measurement conditions. COG-2 may be used for measurements in water or sewage without the head.

TECHNICAL DATA
Function
Oxygen %
Oxygen %
Oxygen mg/l
Temperature
Environment
air
water
water
water or air
Range
0 ÷ 100%
0 ÷ 199.9 %
0 ÷ 19.99 mg/l
-50.0 ÷ 199.9 °C
Accuracy (± 1digit)
±2 %*
±2 %*
±0.2 mg/l*
±1 °C with Pt-1000B probe
Temperature compensation
-
-
0 ÷ 40°C
-
Constant values for measurement in mg/l
Air pressure 1013 hPa, salinity 0%
Dimmensions (mm) / weight
L = 149, W = 82, H = 22 / 210g
Power supply
12 V / 100 mA power adapter
Relays' parameters
2A/250VAC/30VDC
Isolation class
according to PN-83/T-06500
Radioelectric interference
N level
| | |
| --- | --- |
| * | With oxygen sensor, at calibration temperature. |